Akyweb.com Pte Ltd is a Singapore web design and application programming FIRM. we provides web design, website development, application programming, LETAS Grant Application, ecommerce solution, website/email hosting and internet marketing for businesses. No matter what your needs, we have the experience and personnel to design your web site and bring your products and services on-line quickly and professionally.

Akyweb.com Pte Ltd, was established in 1992 . Over the last decade, we have developed our core competencies along project management in IT solutions. IT Solutions that ride on the backbone of the Internet infrastructure are our prerogative. Up to date we have more than 200 clients in Singapore and 50 in Malaysia. Our clients including listed company, government sector, MNC Companies, Non-profit organisation, SME, School and etc

A winner of 5 consecutive years 1999-2003 Prestigious USA Golden Web Award Company. > Akyweb.com Pte Ltd keeps abreast on the latest government initiatives in the SME arena, and is committed to building up the competency levels of SMEs through knowledge sharing.

Akyweb.com Pte Ltd is also actively involved in the Local Enterprise Technical Assistance Scheme (LETAS), introduced by SPRING Singapore. Previously the Productivity and Standards Board, SPRING Singapore spearheads SME development and upgrading and adopts a total approach in building up the capabilities of SMEs.

Akyweb.com Pte Ltd is a technology engineer that provides total information technology solutions. By taking a proactive role in determining the needs of SME, Akyweb.com Pte Ltd is able to deliver seamlessly integrated end-to-end solutions for tomorrow's technology era. Through our expert knowledge and vast experience in this field, our skilled specialists are the best technology engineers to provide you with effective tools for success and growth.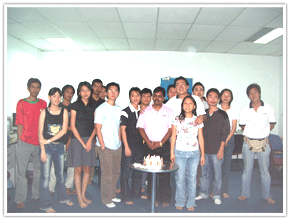 Consultant Team
Programming Team
Designing Team
Mr Jason ANG , Principal Consultant (founder of Akyweb.com Pte Ltd)
Mr.Tan Yih Kiat, Senior Application Programmer
Mr. Mic Teoh, IT & SEO Consultant
Mr. Jackie Pang, IT &SEO Consultant
Mr. Hadwin Ng, Application Programmer
Mr. Sam Ong, IT & SEO Consultant
Mr. Jou Ruo Chen,
Application Programmer
Mr. Nicholas Chiew, IT & SEO Consultant

Mr. Roger Jou, Application Programmer.
Mrs Yong Chai Ing